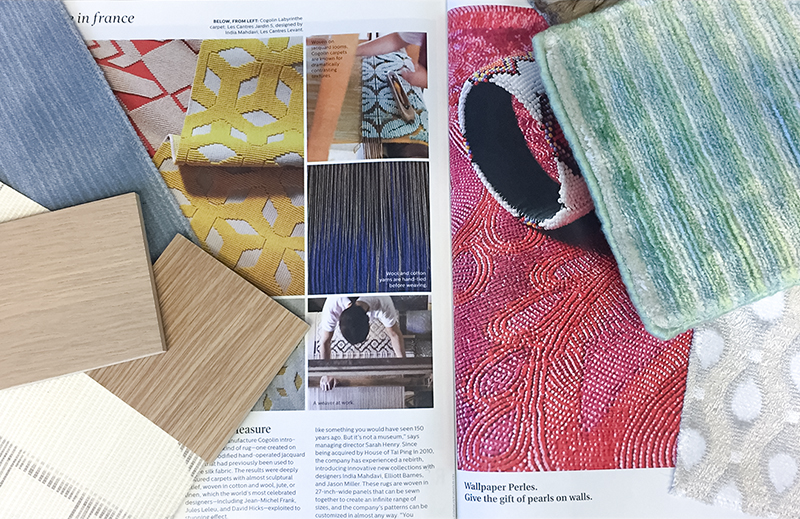 Recently, someone asked what resources we use for design inspiration. With an abundance of information at our fingertips, the answer to this question cannot be answered in 100 words or less. There are endless sources for editorial images of stunning interiors, as well as trending products and design styles. One of our favorite aspects of the interior design industry is that it is ever-changing, which makes for a never-ending database of design information.  We compiled a list of our favorite sources for design inspiration to share with you.
Magazines
Glossy design magazines are an important source of design inspiration in the industry. Well-known, international magazines keep a close eye on the current trends in architecture and design, and carefully select projects that reflect these trends. Design magazines also highlight artists and product designers that are buzzing. There is nothing better than checking your mail and finding this month's issue of your favorite magazine, full of fresh and inspiring design! Here are four of our favorite design magazines:
Blogs
Architecture and design blogs are chock-full of intriguing articles about anything from micro-home projects in London to the design of Nike's NYC headquarters. It's incredibly easy to get lost in a number of our favorite design blogs, trust us:
Work of Design & Art Influencers
When in need of inspiration, we often look to design and art influencers. What better way to gain design inspiration than by tapping into the genius of acclaimed designers like Jamie Drake, Victoria Hagan or Alexa Hampton? Artists, of all mediums, are another source of inspiration. The best space to seek inspiration of design and art influencers is through their websites, as well as photos they share on their Instagram accounts. Check out these the Instagram pages of these influencers…we promise you won't be disappointed by what you see:
Your Surroundings
One of the easiest way to find design inspiration is by observing your surroundings. Have you ever heard the saying, "If you ever get bored, just open your eyes"? We couldn't agree more with this statement. Beauty and inspiration are all around you, every minute of every day. Instead of listening to music on your morning commute, consider some quiet pondering and open your eyes to your surroundings.
Set Design of Movies & TV Shows
The final source on our list is set design of movies and TV shows. As interior designers, we often find ourselves spending more time studying the setting of movies than following the plot. Apparently, we're not the only ones who are influenced by the interiors of the shows and movies we watch. In fact, the widely popular show Mad Men is credited with "bringing Midcentury Modernism back into the mass-market mainstream and becoming a form of design shorthand," according to an article by Los Angeles Times. Here are four of our favorite set design examples from movies and TV shows:
Do you find inspiration in any of our favorite sources? Or maybe you have other go-to sources of inspiration? We would love to hear what inspires you. Thank you visiting our blog this week and we hope you check back soon!