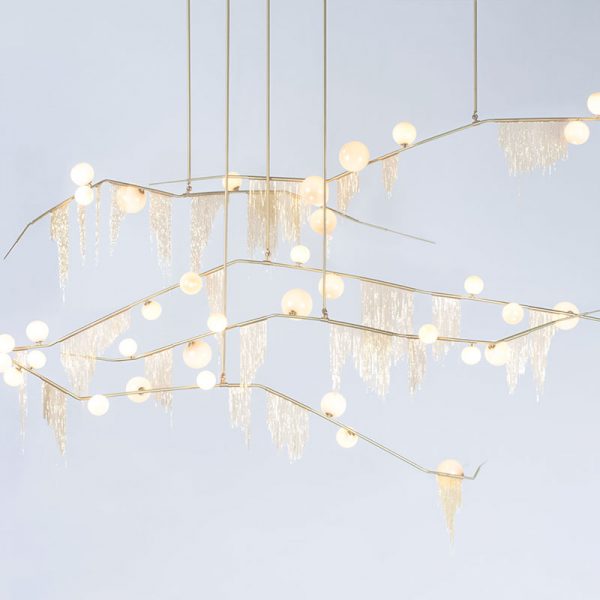 We are slightly obsessed with lighting design, and we are not afraid to admit it. The quality of lighting can elevate a well-designed space into something extraordinary. Decorative lighting is also a great opportunity to add visual interest to a room. A carefully designed interior is like a great outfit, and the lighting is the jewelry that puts the finishing touch on the entire look. We rounded up a few of our favorite lighting fixtures to share with you, and we're going to tell you why we love each and every one. Prepared to be dazzled…
1. Lindsay Adelman Cherry Bomb Chandelier (photo above)
Why We Love It: If lighting is like jewelry for a room, then we can't think of a more gorgeous piece of "jewelry" than this shimmering, playful chandelier.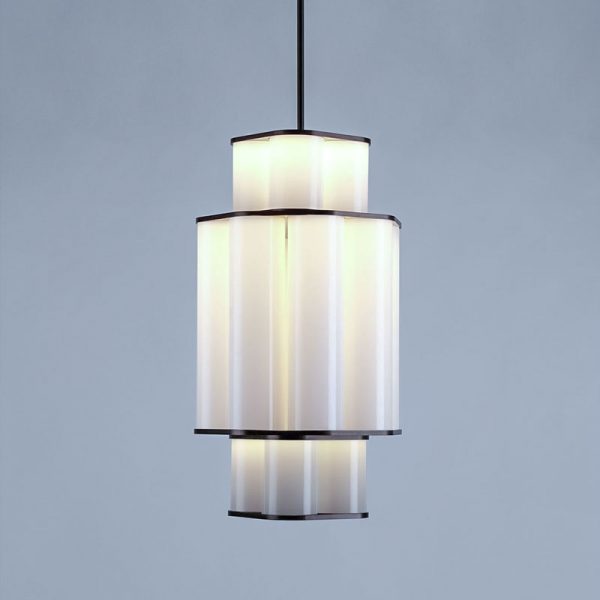 2. Roll & Hill Bauer Chandelier by Jason Miller
Why We Love It: This chandelier is the epitome of chic. Its sophisticated shape has the softness of a lantern, but the contrast of the black metal finish gives it some edge.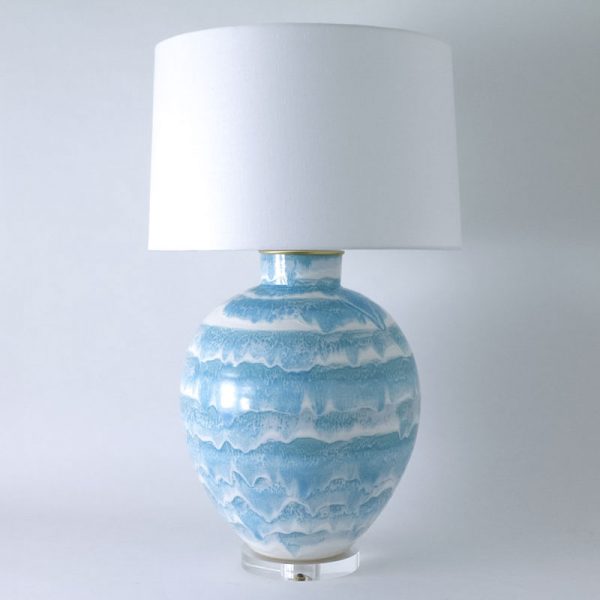 3. Paul Schneider Ceramics Valentine Table Lamp in Briland Multi-Banded Drip
Why We Love It: Our third pick holds a special place in our heart, because we love supporting artisans. Each special lamp is handmade by Paul Schneider, himself. We love the shape of this table lamp, and the sky-blue, Briland glaze is dreamy.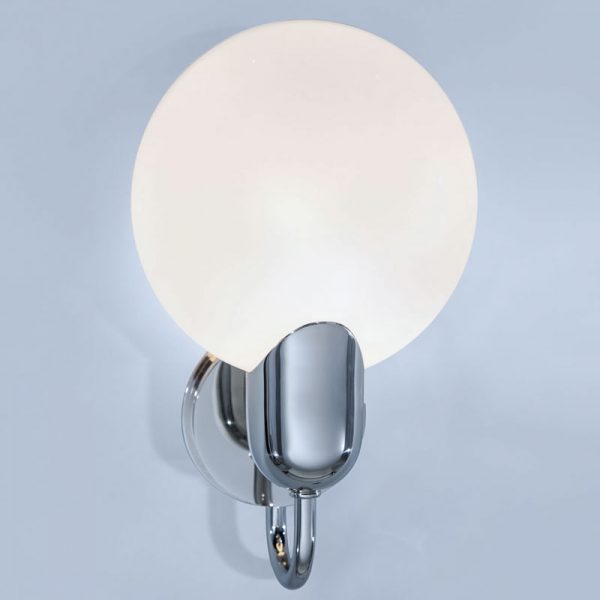 4. Urban Electric Co. Jennifer Wall Sconce in Polished Nickel
Why We Love It: We love this wall sconce for its versatility. We can envision it being used in a luxe dining room or adorning a gracious stair hall. With a range of available finishes, the Jennifer Wall Sconce is a stunner!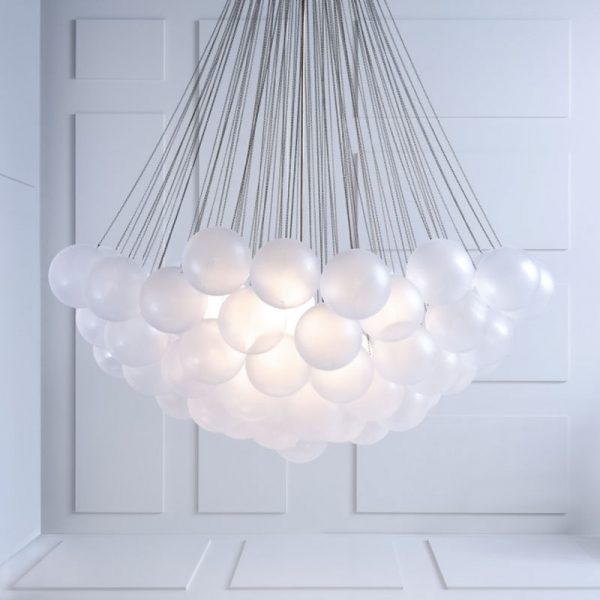 5. Apparatus Studio Cloud XL Chandelier
Why We Love It: This "Cloud XL" chandelier is as ethereal and light as its namesake. We adore the shape of the fixture, and we are waiting for the perfect space to incorporate one of these "clouds".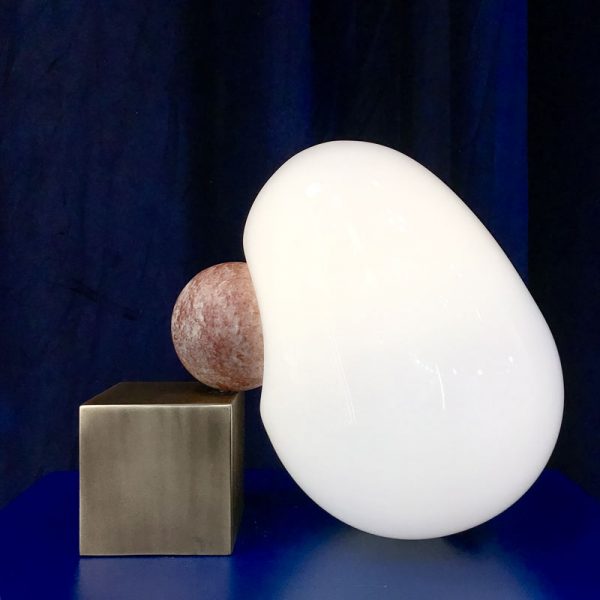 6. Anna Karlin Dimple Table Lamp
Why We Love It: This small but impressive table lamp is more a lighting sculpture than a lighting fixture. We love the mix of materials, and the unique shape of the blown-glass element.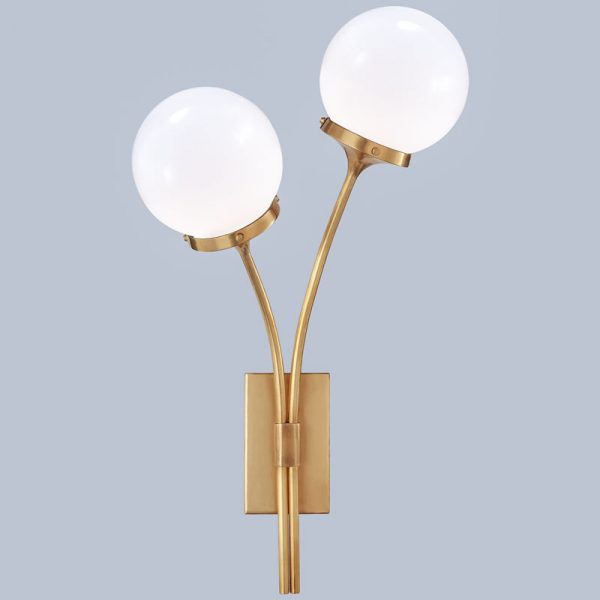 7. Visual Comfort Prescott Left Sconce by Kate Spade New York
Why We Love It: It's no surprise that Visual Comfort's collaboration with Kate Spade resulted in this adorable wall sconce. The asymmetrical quality and graceful arms secure its place as one of our lighting favorites.
We hope you enjoyed our top 7 favorite lighting fixtures (for the time being). Not only is decorative lighting an integral aspect of interior design, but with amazing fixtures like these, you can plan an entire room around a statement lighting fixture. Thanks for reading!